Home / Docs / Download / Release Note / Blog / ImageTrans / Support / Donation / RSS
ImageTrans - Computer-Aided Image and Comic Translation Tool
Introduction
ImageTrans is a computer-aided image and comic translation tool. It can automatically locate text areas and perform OCR operations using state-of-art OCR technology and a homebrew text areas merging and detecting algorithm, which is specially designed for comics (also webtoon, manga, manhwa and manhua). The original text can be automatically erased and the translation be reinjected.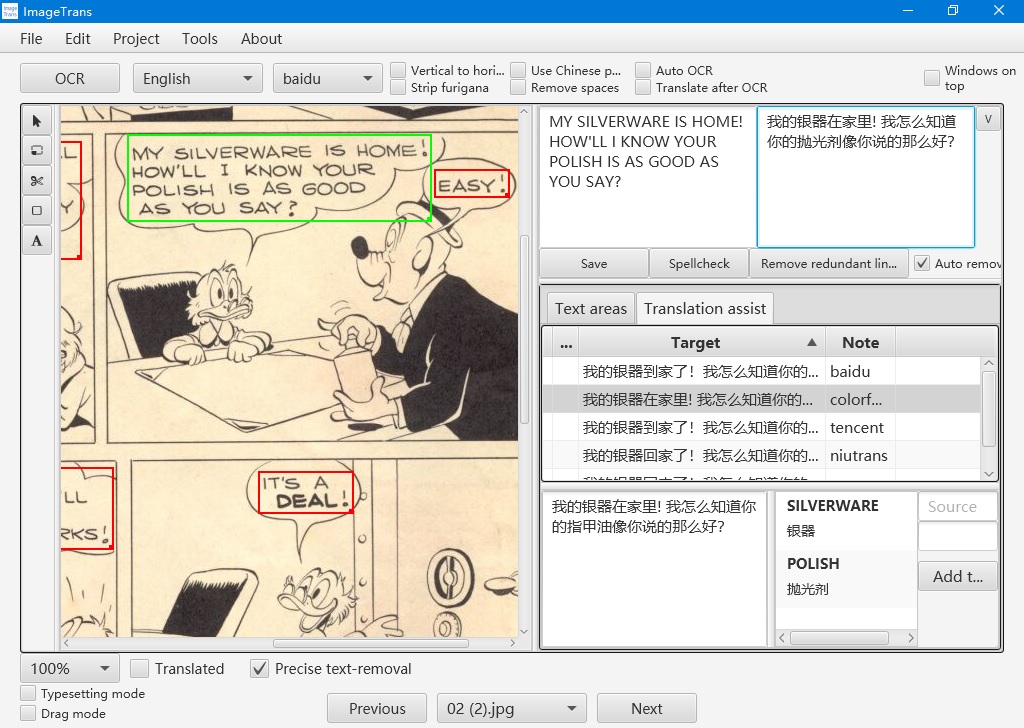 ImageTrans can be used not only as an image translator, but also an image reader, an image transcriber and a deep learning annotator.
ImageTrans is the result of the thesis for my master's degree: Design and Implementation of a Computer-Aided Comics Translation Tool.
Features
Accurate text area detection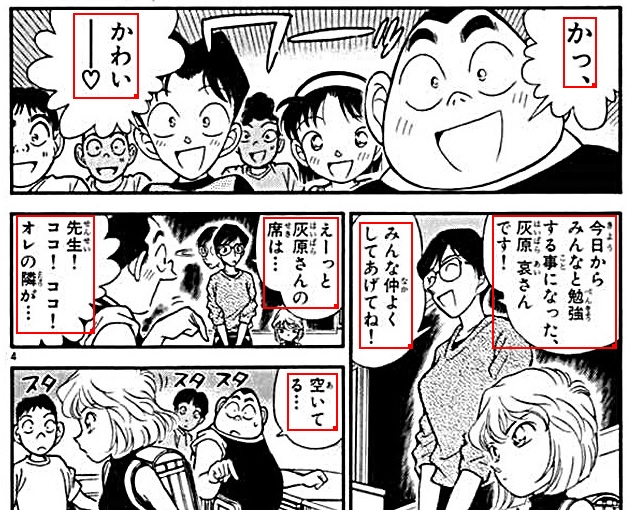 It can use natural scene text detection, object detection and a heuristic method to detect text.
Accurate text recognition
Support multiple OCRs

It supports online OCR services such as Google, Baidu, Sogou and Youdao, and offline OCR engines such as Tesseract, PaddleOCR and Windows 10's built-in OCR engine. See FAQ for the usage and the list of supported OCRs.

In addition, you can also call other OCR services by writing plug-ins.

Support major languages

The OCRs used support all the major languages in the world.

Employ a variety of image processing methods to improve the results

Remove background

↓

Strip Japanese furigana

Before:

 Sogou OCR: えーっとはいばん灰原さんのせき席は…


After:

Convert vertically aligned images to horizontally aligned

Most of the OCR models based on CRNN can only recognize text horizontally aligned, so it is necessary to convert vertical images to horizontal images when using these OCR models

 Baidu OCR: 強んな勉とら!文事なかす原るん日で灰すみ今


↓

 Baidu OCR: 今日からみんなと勉強する事になった灰原哀さんです!


Post-processing of the text: remove line breaks, spaces

Use spellcheck to improve the result
Translation assist
It can call a variety of machine translation engines. It also supports translation memory, corpus concordance, term management and other common functions of computer-aided translation software. It has a sound effects words search engine designed for translating comics.
Precise text removal and reinjection
The software can use tools and algorithms like Sickzil-Machine, binarization, PatchMatch to generate text mask and remove text. It can refill the translation and automatically adjust the font size according to the position and area of text regions. All the above operations support manual adjustment.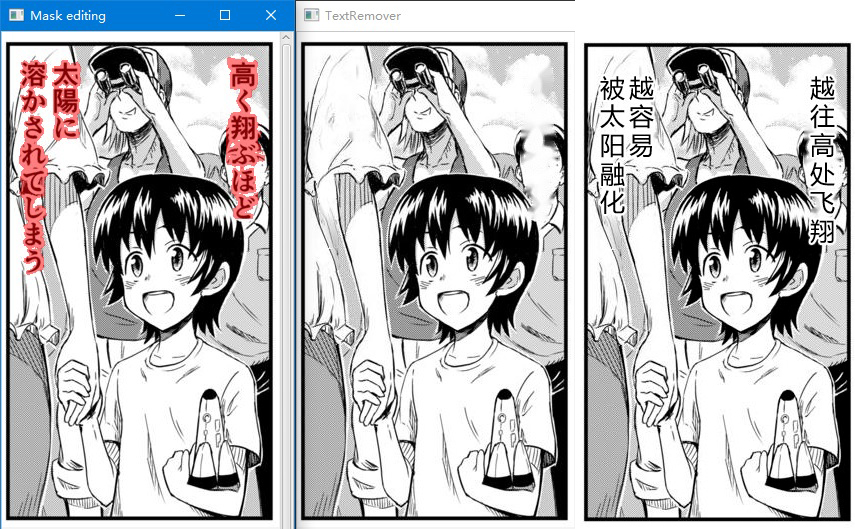 Interoperability
It can use scripts to save the results as Photoshop's PSD files.
It can export the data to Excel, Word, XLIFF files, or import data from these files
With the Chrome Extension, it is possible to translate pictures on web pages directly
Cross-platform
Like BasicCAT, ImageTrans is cross-platform (Windows, MacOS, Linux). It can also run as a server.
Others
Global font style
Automatic detection of background color and text color
Batch processing
Examples of Translated Comics
Come to me, Love —— From issue 41, Boy Loves Girls (Golden age comics).
Browsing Page: http://comics.xulihang.me/viewer.html?project=come_to_me_love.itp
Text Searching Page: http://comics.xulihang.me/search.html
Get a Copy
Mail to admin@basiccat.org to apply for purchasing ImageTrans.
Complete the payment with Paypal or Alipay.
You will get a download link and an email.
Or self purchase on FastSpring: link.
Pricing:
ImageTrans for personal use: $10.99
ImageTrans for commercial purpose: $200
Free update within half a year.
Please follow the installation instruction.
If you are from academic institutions, you can email to admin@basiccat.org with your institution's email to get a discount. Please tell us who you are and what you are gonna do with ImageTrans.
More
Related tools
WebP-Converter. Convert JPG/BMP/PNG to WebP and vice versa.
WebImageHelper. Download all the images from websites or download the image under the mouse cursor based on screen positions. This can be used to translate images in web. Images can be replaced with their target version.